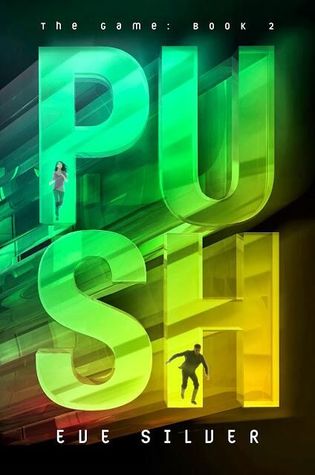 T
itle: PUSH
A
uthor: Eve Silver
S
eries: The Game
B
ook #: 2
P
ages: 352
R
eading
L
evel: YA
B
ook
R
ating:
G
oodreads
R
ating: 4.39
P
ublished: June 10th, 2014
Add it to your TBR @Goodreads
It's either break the rules or die.
Miki Jones lives her life by her own strict set of rules, to keep control, to keep the gray fog of grief at bay. Then she's pulled into the Game, where she—and her team—will die unless she follows a new set of rules: those set by the mysterious Committee.
But rules don't mean answers, and without answers, it's hard to trust. People are dying. The rules are unraveling. And Miki knows she's being watched, uncertain if it's the Drau or someone—something—else. Forced to make impossible choices and battling to save those she loves, Miki begins to see the Committee in a glaring new light.
And then the Game crosses a new boundary, pushes harder into Miki's and her friends' lives, and there's nothing in the rules that can save them now.
Push is the sequel Rush fans will be screaming for.
T
aschima's
POV
:
If you loved, or even slightly liked, RUSH you are bound to love PUSH.
Give me more PUSH! This was a great sequel that delved deeper into the emotional battle that rages inside Miki, giving us some much needed down time between all the battles. More clues were spread around about the purpose of The Game and its creators, but the whole thing is still just as murky as before. I loved going back into this fantastical world full of high stakes, and I cannot wait for the third installment to hit the shelves.
Miki is devastated. Jackson died in her place. He had betrayed her, yes, and she isn't about to forget that or sweep it under the rug but he also saves her countless times. She grieves, but not for too long. Soon enough she has other problems to worry about, like her alcoholic father, being the brand new leader of her group, Drau's breaking out of their boundaries and attacking in the real world... PUSH is definitely action packed and does a fine job of carrying the torch RUSH first set aflame.
Miki is a very well rounded character, and that is one of the things I most love about her. Her problems don't begin and end with THE GAME. She already had issues to deal with long before the GAME, or Jackson entered her life. I like that in this installment Miki tries to fix her ties to her childhood friend Carly, who even though might be a pain in the ass sometimes would be a devastating loss for the series if she were to disappear. Miki also has her drunken father to worry about, not to mention her own inner issues of control. She can't fix her father, no matter how much she wants to, and she can't fix her life. But through it all she manages to pull through it with her head held high.
To be completely honest PUSH gives us way more questions than it gives us answers. It definitely sets the stage for what is to come next, not to mention it gives us another devastating cliff hanger (TWO CLIFFHANGERS IN A ROW, ARE YOU SERIOUS?!). New characters are about to turn Miki's world upside down.
In the Goodreads summary it says that PUSH is the sequels we shall be screaming for, and they are definitely right. Once you are done however the screaming doesn't end since now I find myself clamoring for CRASH.