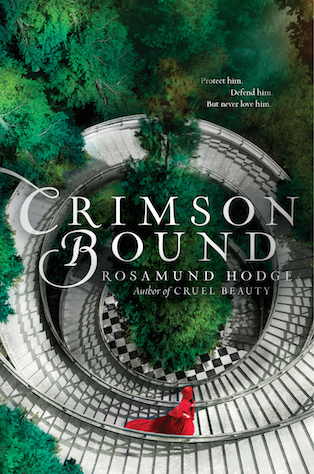 T
itle: Crimson Bound
A
uthor: Rosamund Hodge
S
eries: n/a
B
ook #: 1
P
ages: 448
R
eading
L
evel: YA
B
ook
R
ating:
G
oodreads
R
ating: 3.89
P
ublished: May 5th, 2015
When Rachelle was fifteen she was good—apprenticed to her aunt and in training to protect her village from dark magic. But she was also reckless— straying from the forest path in search of a way to free her world from the threat of eternal darkness. After an illicit meeting goes dreadfully wrong, Rachelle is forced to make a terrible choice that binds her to the very evil she had hoped to defeat.

Three years later, Rachelle has given her life to serving the realm, fighting deadly creatures in an effort to atone. When the king orders her to guard his son Armand—the man she hates most—Rachelle forces Armand to help her find the legendary sword that might save their world. As the two become unexpected allies, they uncover far-reaching conspiracies, hidden magic, and a love that may be their undoing. In a palace built on unbelievable wealth and dangerous secrets, can Rachelle discover the truth and stop the fall of endless night?

Inspired by the classic fairy tale Little Red Riding Hood, Crimson Bound is an exhilarating tale of darkness, love, and redemption.
Taschima's POV:
"I am Rachelle Brinon. I didn't listen to my aunt when she told me to stay on the path and save my own life. Damned if I'll listen to the Forest now."
I am a little bit in awe with Crimson Bound. I've read a lot of books lately, but none were able to grab my attention and keep me captivated quite as Crimson Bound. Who ever thought a retelling of Red Riding Hood could be as unique and engrossing? I certainly didn't, which makes me so much happier that this book blindsided me. The folklore, the characters, the crimes and the repentance... It all woven together into this perfect grimm fairy tale retelling where nothing is as it seems; there are no perfect paths to take and no perfect endings. I would recommend putting Crimson Bound high up on your reading list, because it is one of the best retellings out there. Hands down.
"A forestborn puts a mark on a human," she said. "The human must kill somebody in three days or die. If he kills somebody, he becomes a bloodhound, which means the power of the Forest is growing in him, until finally he gives up the last of his human heart and becomes a forestborn."
--different chapter--
"She killed. She was exactly like me. And like her, I will die for my sins and go to hell. But at least I'm not fool enough to think that bloodbound won't bring death all around them."
The folklore created in Crimson Bound is dark and enchanting. I think the closest magical creature to a foretsborn is a very twisted Fae. They have the Wild Hunt, they play with humans and take them when they please. They serve a an entity that they want to bring back from the brink of death so this entity can swallow the sun and the moon and they can live in eternal darkness, hunting their human prey. And our heroine is in the beginning stages of becoming one of these heartless creatures. That just might mess with a girl's head. In between Rachelle's story you get small snippets of the origin story of the one that once was able to defeat the Devourer, how she managed to do so, etc. It is a very good story, and a fantastic way to show the reader the origin story without have to info dump in the middle of a chapter.
"Rachelle wanted to sew the world back to safety, even if she must use her own bones for needles."
First off let me state that I loved Rachelle. She is so twisted up inside; she wants to be a hero but ends up becoming a murderer. Now she spends her days saving people from the nightmares that sprout from the Great Forest in order to repent. She killed the most important person in her life in order to live and she can't forgive herself. She spends the whole novel repenting and just being generally awesome by putting everybody before herself, sacrificing everything so the world can have another day full of light. She is not whiny (no "woeh is me" here) she just knows what she did and what she is worth, and damn whoever stands in her way of achieving her goals. She also has a soft spot for the one friend she has in the world (Amelie), and the one guy who might change shed light into her dark and twisty world.
"How last winter, a forestborn had marked him. How he had refused to kill, and the mark remained black on his skin, yet he was alive to this day.
How, in a fury, the forestborn had cut off his hands."
Said guy is never described as being otherworldly beautiful. First time she seems him she calls him downright average looking; his most distinctive feature being his silver fake hands. Armand Vareilles is not the sum of his looks, but the sum of his intentions and wit. He is funny and understanding and will make you smile. He just steals your heart right out of your chest, right after giving you a witty retort and a half smile.
Did I mention it is set in a pseudo French court? This excited me. While the names are hard to remember I did enjoy whatever small glimpse we could get into French court life (which doesn't seem that must different from the English really, it would have been nice if the title had submerged itself a little more into the French life style but I will take what I can get. After all, it is not a historical novel per se.)
Overall, I loved it all. I am so picking up Rosamund Hodge's debut novel Cruel Beauty next! Definitely recommend, on all counts.