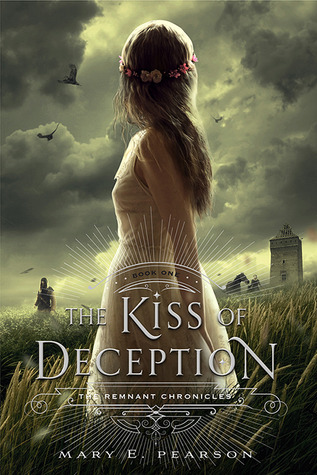 T
itle: The Kiss of Deception
A
uthor: Mary E. Pearson
S
eries: The Remnant Chronicles
B
ook #: 1
P
ages: 492
R
eading
L
evel: YA
B
ook
R
ating:
G
oodreads
R
ating: 4.05
P
ublished: July 8th, 2014
In this timeless new trilogy about love and sacrifice, a princess must find her place in a reborn world.
In a society steeped in tradition, Princess Lia's life follows a preordained course. As First Daughter, she is expected to have the revered gift of sight—but she doesn't—and she knows her parents are perpetrating a sham when they arrange her marriage to secure an alliance with a neighboring kingdom—to a prince she has never met.
On the morning of her wedding, Lia flees to a distant village. She settles into a new life, hopeful when two mysterious and handsome strangers arrive—and unaware that one is the jilted prince and the other an assassin sent to kill her. Deception abounds, and Lia finds herself on the brink of unlocking perilous secrets—even as she finds herself falling in love.
Taschima's POV:
Why must books end in GIANT cliffhangers? I hate them. I love them. Cliffhangers make sure that readers hang tight for the sequel, though The Kiss of Deception didn't need no cliff hanger to make it's reader's beg for more.
"I am a soldier in my father's army."
I have to admit that the beginning part of Kiss of Deception went by terribly slow for me. I immediately liked Lia, First Daughter and Princess of Morrighan. She is a wild spirit with an impulsive tongue. She is against tradition and resents all those who were involved into getting her engaged in a loveless engagement. Which is why she runs away with her best friend and tries to create a better live for herself. While I only liked Lia at the beginning I learn to love her by the end of the title. At the beginning she might seem a little selfish, leaving her whole kingdom to rot while she tries to find her HEA but she becomes such a strong woman by the end of the title that it doesn't even really matter. By the end she is the exact kind of princess little girls should all be looking up to.
"I wasn't a carefree tavern maid. I was Princess Arabella Celestine Idris Jezelia, First Daughter of the House of Morrighan.
The one named in secret."
One of the most interesting things about the title was the mystery the author made up for us. The novel is mostly told from 3 POVs. Lia's is the main POV, but then we also read chapters from the POV of the assassin and the prince. Only, we get no description of these characters. So we, much like Lia, don't know who they are once they introduce themselves to her. We know the two of them because they somehow stick together, but we don't know who is which. Is the Assassin Rafe, or Kaden? Who is the prince? It is a mystery you are left to solve. It is kind of brilliant, you get to know them much like Lia without their titles. So if you are more inclined to like assassins, or princes, you may be quite surprised. It changes your entire perspective. Me? I'm team Rafe all the way, but that's just me.
The mystery did really drive me crazy though. I really wanted to guess right.
So while the beginning was slow for me, I might have put the book down once or twice, once Lia reached her destination it started getting into a good flow. Lia was learning new things and adopting a new way of life along with her best friend Pauline. Another thing I really liked about Kiss of Deception was the relationship between Lia and Pauline. Very strong girl friendship, these girls supported each other through thick and thin, and while Lia might have made some questionable decisions when it came to telling Pauline some truths she did it with the greatest of intentions.
I liked the world Mary E. Pearson created. I wish to learn a little more about the so called "Barbarians", I have a feeling they might very well be entitled to their rage. I would be if people kept calling me a barbarian. Also I was as confused about the so called "Gift" as Lia was. Is he Gift just really good intuition? What is so special about Lia, besides how awesome a character she is? I can't wait to find out.
The subject of war is also treated very realistically. You are shown both sides of the battle, emphasizing how good people are lost on both sides of the war, and a lot of innocent people also suffer. It kind of reminds me of [book:The Winner's Curse|16069030] and how you don't even know which side is right, because there is no clear answer. Should the Barbarians take revenge? Should they call a truce? Nobody knows, plus we don't have enough information yet to pick a side. All I know by now is that I am on Lia's side.
Lastly, Chapter sixty-eight. It warrants it's own mention. It will make you cry, it will make your heart hurt. This chapter just transformed Lia. From grieve the mighty shall emerge, and Lia is BOUND to kick some serious ass in the next book. I just wish it hadn't ended in such a huge cliff hanger (DAMN YOU!!!).
I am SO ready for Heart of Betrayal.