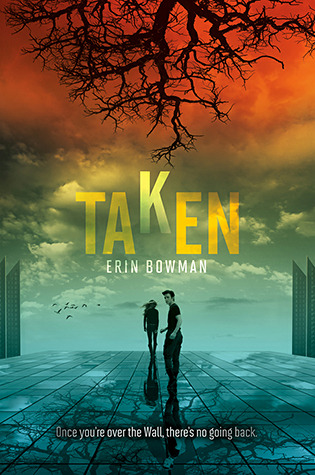 T
itle: Taken
A
uthor: Erin Bowman
S
eries: Taken
B
ook #: 1
P
ages: 360
R
eading
L
evel: YA
B
ook
R
ating:
G
oodreads
R
ating: 3.77
P
ublished: April 16th, 2013
There are no men in Claysoot. There are boys—but every one of them vanishes at midnight on his eighteenth birthday. The ground shakes, the wind howls, a blinding light descends…and he's gone.
They call it the Heist.
Gray Weathersby's eighteenth birthday is mere months away, and he's prepared to meet his fate–until he finds a strange note from his mother and starts to question everything he's been raised to accept: the Council leaders and their obvious secrets. The Heist itself. And what lies beyond the Wall that surrounds Claysoot–a structure that no one can cross and survive.
Climbing the Wall is suicide, but what comes after the Heist could be worse. Should he sit back and wait to be taken–or risk everything on the hope of the other side?
Taschima's POV:
"Maybe it takes going crazy to face the truth."
"The rage in this one, the anger, the bitterness, the fire-that is real. That is what is left of a Heisted boy, a life plucked from one world and thrown without background into another."
Taken was a thrill ride, but what really shines in this novel is it's characters. Gray is stubborn, reckless, and prideful. A bit of a dick at the beginning, he is everything that his brother isn't; his exact opposite. While Blaine would try his best to make life easier for everyone Gray kept to himself and couldn't give less of a crap how everyone else felt. He was true to himself, which made him seem like a dick to the people around him. He also hated the system they were raised on, so instead of accepting it like everybody else he rebelled. He wouldn't conform, which made him an outsider. He acts before he thinks, he is led by emotions. I liked him.
"You don't understand," I say. "I'm doing it for me, because that's what I do. We talked about this on our very first trip to the lake. I think about myself, my needs, and I act on them. I need the truth, all of it, and I'm going to get it. I can't spend my entire life not knowing."
Gray and Emma are slatted together. Basically they make the men and women in the colony hang out and sleep with each other so that their population wont dwindle. Gray likes Emma, but he doesn't like the idea of anybody telling him what to do. So he makes a plan with Emma, she hangs out with him and pretend they are having a relationship and maybe that will keep people off their backs. Emma accepts, and so their budding friendship begins. At first Emma dislikes him (I mean who wouldn't, the damn kid has a chip the size of Texas on his shoulder) but soon enough she starts to trust him, and like him. Their relationship is an easy one, one built on childhood friendship and convenience. I have a feeling it is more real for Gray than it is for Emma.
"I don't know what caused me to latch on to Bree the way I have, but whenever she leaves, I am slightly lost. I miss her fire, her scowling face and wild nature, her snide remarks. Each time she returns, I think of telling her this, but I never do. I sometimes even think of asking her if she still wants that kidd. But then Emma will creep into my mind—Emma who has been a pain in my chest for months, an ache I pray to extinguish in reunion every single day. And so I always let the feelings for Bree—the ones that creep up on me when she flashes me a smile or playfully punches my arm—fade way."
Which is where Bree comes in. The love triangle in this book (yeap, there is one) is very subtle. It is not shoved at us and making us like it, it is justified. I like both Bree and Emma, though Bree has more of the qualities that I look for in my female bad asses. Emma is quieter, a healer, smart. She is more like Blaine than Gray, and Gray is more like Bree. I am curious to see if in this instance opposites will attract, or if Gray will stick with the person who shares more of his qualities. It could definitely go either way.
Other than the characters I liked the plot. Boys getting heisted at 18 for no obvious reason. It kind of reminded me of Michael Grant's [book:Gone|2536134] series, which kids disappearing after they reach a certain age. I never continued that series so I don't know if they have anything else in common. What drives this series for the most part though is Gray and his curiosity. He keeps fighting until he find the truth. It is a good series that focuses heavily on the dystopian world. I thought more background on the war was needed and hopefully this will be addressed in the sequel. Even though I figured out the "major mystery" early on I still enjoyed the book and plan to continue on reading the series.