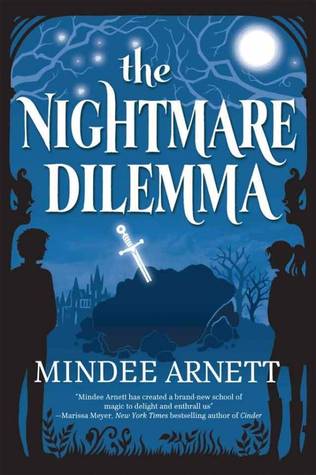 T
itle: The Nightmare Dilemma
A
uthor: Mindee Arnett
S
eries: The Arkwell Academy
B
ook #: 2
P
ages: 384
R
eading
L
evel: YA
B
ook
R
ating:
G
oodreads
R
ating: 3.96
P
ublished: March 4th, 2014
Dusty Everhart might be able to predict the future through the dreams of her crush, Eli Booker, but that doesn't make her life even remotely easy. When one of her mermaid friends is viciously assaulted and left for dead, and the school's jokester, Lance Rathbone, is accused of the crime, Dusty's as shocked as everybody else. Lance needs Dusty to prove his innocence by finding the real attacker, but that's easier asked than done. Eli's dreams are no help, more nightmares than prophecies.
To make matters worse, Dusty's ex-boyfriend has just been acquitted of conspiracy and is now back at school, reminding Dusty of why she fell for him in the first place. The Magi Senate needs Dusty to get close to him, to discover his real motives. But this order infuriates Eli, who has started his own campaign for Dusty's heart.
As Dusty takes on both cases, she begins to suspect they're connected to something bigger. And there's something very wrong with Eli's dreams, signs that point to a darker plot than they could have ever imagined.
Taschima's POV:
Well, I didn't think The Nightmare Dilemma could have been any better than The Nightmare Affair...
Guess I was wrong.
Sophomore reads can sometimes be a
downer
. It is so nice when they manage to keep up with their predecessor! The Nightmare Dilemma had all the magic that drew me to The Nightmare Affair. Best of all it had Dusty in all her glory. I love this character, she is a smart mouthed Nightmare. Quite literately, she feeds on other people's dreams. Though lately the only dreams she has been feeding from come from the well packaged hotness that is Eli. Eli is Dusty's dream-seer. He dreams about the future and Dusty sees it and reports on it to the rest of the world. They are a team, though lately it seems to be getting harder and harder to work together without awkwardness getting in the way, or sexual attraction, or an attempt on someone's life. Again someone has been attacked in Arkwell Academy. This time it was a mermaid named Britney. When they ask Dusty to look into Britney's dreams in order to identify the killer though Dusty gets a nasty surprise because it seems as if Eli is involved in this last attack, and not just as an innocent by stander. Soon enough Dusty is knee deep in another mystery she must solve before another student gets hurt.
I love how Mindee Arnett is so good at writing these mystery books. Most of the time I can honestly say I have no idea what is going to happen, or who did it, or even why. I like that this series manages to keep me on my toes. And it is so funny! On various times I found myself laughing out loud and just overall agreeing with Dusty's way of being. Her life seemed to unfair at times, people asking her to do things no other teenage girl should be asked to do, like spy on her old boyfriend who betrayed her to the big baddie and had a hand in the death of her classmate. On top of that she gets detention, constantly, because she is trying to help the government. Seriously?
One of the things that might have bothered me a bit while reading was Eli and his "I'm so hot for you/We can't be together" attitude. Even after hearing his reasons for his behavior I still had to stop myself from rowling my eyes in a manner which kept me from having a serious headache. I did screamed "for fuck's sakes" out loud though. Oops.
OF COURSE Eli and Dusty HAD TO BE CURSED. It sounds so cheesy, but then again the sexual tension is a great story piece. But seriously I just wanted these two to be able to BE together, which we shall see what happens in the next book I guess. They did leave off things with a BIG kiss in front of everybody...
Another character that acted shady was Selene. I love this girl but she seriously could have been a bit more trusting when it came to Dusty. I just felt it was unfair how Dusty told her EVERYTHING and Selene always held back. I guess her secret was imperative in one of the books' scenes, but it still bugged me. Not cool girl.
Eli was still super hot. I am not even being vain, he just is. He goes through some intense changes in this book. He finds out a lot about himself, and he finally starts to fit more into the magical world. Even the part where the magic folk start to hate on him. Yeah, not cool.
If I am completely honest though I might still have a thing for Paul. Even though he was the bad guy (or maybe because he is the repenting ex-bad guy?) Paul is still Paul. I guess in this part I am just like Dusty, confused about my feelings. Paul is still his geeky self, but now you have to add mysterious and brooding to the list... Oh lord. Dusty is in trouble.
The pacing was fantastic, the mysteries kept you at the end of your seat, and Dusty's inner monologue was the cherry on top of the awesome sundae that is this book. I am so enamored with this world that I had to start reading Mindee Arnett's other series [book:Avalon|17149396] which deals with teenage mercenaries in space. Does that sound good or what? I can only hope it is even as half as good as the Arkwell Academy series turned out to be.
PS; Where is the third book's cover and release date? COME ON, don't leave a girl hanging like this!