Recently I started re-reading this very entertaining series by Gail Carriger,
Soulless
. It is a Steampunk/Victorian/Supernatural read that has fantastic dialogue and knee shaking romance. I read this first book in the series back in 2009, before the concept of an e-reader ever entered my mind (not to mention my household).
Well recently I decided to start reading this series again because 1. I never finished it, and 2. I was reading Miss Carriger's YA series (which is based on the same world-- Etiquette and Espionage) and it was so good that it made me want to get off my ass and actually finish her adult series. The second time around Soulless is turning out to be even better. I've grown since 2009 and can appreciate the novel better (I was 16-17 when I read this book last!).
This time around however I feel the need to take notes and bookmark my favorite passages for reference, which is difficult to do with a paperback copy unless I want to dog ear the shit out of the title (or buy mini stick notes and put them all around the title, which is annoying to no end).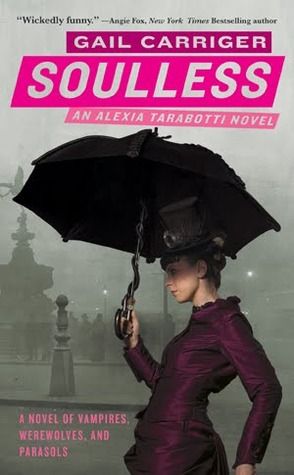 So what did I do in order to fix this issue? I bought the e-book. I BOUGHT THE E-BOOK. I have the paperback copy, and I felt the need to buy the e-book in order to make my reading process easier. I remember the days when I used to abhor even the THOUGHT of owning an e-reader, and now I am buying e-copies of books I already own. Times are changing, and I as a reader am changing right along.
To be honest the e-copy, as a reviewer, makes the process much more easier because we can bookmark passages, make notes, and even color code our notes. It is amazing, and yet it is also a little worrying. I already own the entire series on paperback, and I want to re-read the whole series, so should I go ahead and buy the entire series for my e-reader? I don't see myself doing this, but it is an option. I bought Soulless online through amazon for only $4.00 which is why I didn't really care (that is less than a cup of coffee these days) but once you consider buying them all?
I wish there was an option that let me get the print copy AND the e-copy at the same time (like when you get movies and it gives you a code in order to download the movie for your PC for free).
That is the dream. For my personal library I will always buy the paperback/hardcover, but for reviewing purposes? I find myself preferring e-books. How the mighty have fallen.