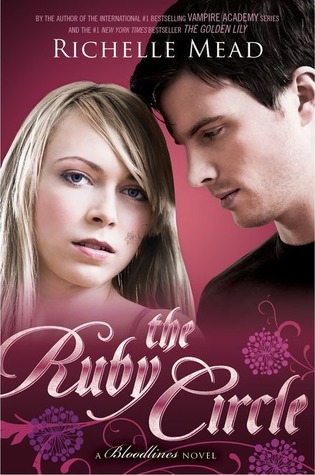 T
itle: The Ruby Circle
A
uthor: Richelle Mead
S
eries: Bloodlines
B
ook #: 6
P
ages: 348
R
eading
L
evel: YA
B
ook
R
ating:
G
oodreads
R
ating: 4.34
P
ublished: February 10th, 2015
The epic conclusion to Richelle Mead's New York Times bestselling Bloodlines series is finally here...

Sydney Sage is an Alchemist, one of a group of humans who dabble in magic and serve to bridge the worlds of humans and vampires. They protect vampire secrets—and human lives.

After their secret romance is exposed, Sydney and Adrian find themselves facing the wrath of both the Alchemists and the Moroi in this electrifying conclusion to Richelle Mead's New York Times bestselling Bloodlines series. When the life of someone they both love is put on the line, Sydney risks everything to hunt down a deadly former nemesis. Meanwhile, Adrian becomes enmeshed in a puzzle that could hold the key to a shocking secret about spirit magic, a secret that could shake the entire Moroi world.
Taschima's POV:
First thing to know about The Ruby Circle is that this is not the end by any means. I am almost 100% sure Richelle Mead is going back to the VA world, at some point in the future, and about 95% sure that her story will continue under Declan (new character you will come to love). Ruby Circle was a nice fitting ending to the Bloodlines series, it managed to cover all its bases and create a nice set up for the future of the series. A lot of nice surprises were revealed [spoiler]
dhampires having babies! Thanks to bringing back people from the Strogoi state those people are infused with Spirit magic, which allowed the dhampirs to pro create. So excited for what this means for Rose and Dimitri!
[/spoiler], and a lot of old characters made a very long lasting appearance. Every plot line and crevice was visited and solved, laying to rest the story of Adrian and Sydney (in a very good note). I am going to miss Sydney, if not Adrian (was never much of a fan, even in the previous series), because she was the more relatable character of the series and one of the strongest female characters in the VA world. I am sure going to miss her.
While I felt like the "evil to be beat" in this one book was a bit anti climactic after the problems they had to solve in Silver Shadows I still enjoyed Ruby Circle. It allowed for Richelle Mead to set up the future of the world quite nicely while tying up loose ends. It also gave us the happily ever after we have always wanted for Sydney and Adrian, with a cherry on top. We also got to see a LOT of Rose and Dimitri, thank goodness, (some secrets were revealed about Dimitri's past as well that made me a very happy reader--no matter how far fetched they might have felt). Just an FYI Mama Ivashkov might have stolen the show a couple of times (I think I came to love her in this book) with her awesome lines and understanding demeanor.
Relax fans, Sydney and Adrian will be back, I also expect we will get more appearances by Rose and Dimitri--they really can't stay away for long. They will all probably only serve as background to the new characters, but at least we will get to see how they turn out and how their lives evolve. I can't wait for the future book in the VA world, because it is going to rock their world (and ours).