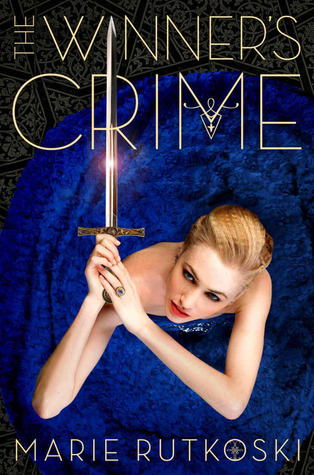 T
itle: The Winner's Crime
A
uthor: Marie Rutkoski
S
eries: The Winner's Trilogy
B
ook #: 2
P
ages: 352
R
eading
L
evel: YA
B
ook
R
ating:
G
oodreads
R
ating: 4.37
P
ublished: March 3rd, 2015
Book two of the dazzling Winner's Trilogy is a fight to the death as Kestrel risks betrayal of country for love.

The engagement of Lady Kestrel to Valoria's crown prince means one celebration after another. But to Kestrel it means living in a cage of her own making. As the wedding approaches, she aches to tell Arin the truth about her engagement…if she could only trust him. Yet can she even trust herself? For—unknown to Arin—Kestrel is becoming a skilled practitioner of deceit: an anonymous spy passing information to Herran, and close to uncovering a shocking secret.

As Arin enlists dangerous allies in the struggle to keep his country's freedom, he can't fight the suspicion that Kestrel knows more than she shows. In the end, it might not be a dagger in the dark that cuts him open, but the truth. And when that happens, Kestrel and Arin learn just how much their crimes will cost them.
Taschima's POV:
Why must Marie Rutkoski play with my emotions? When I went into The Winner's Crime I was expecting swoon worthy passages, fantastic writing, and a reunion scene to trump all previous reunion scenes in the world. I got the first two, I don't feel like I fully got the third mandate. But I got so much more; the plot thickening and becoming ever more complicated, so much so that it left me a little out of breath. The Winner's Crime was everything I wanted it to be and much much more. Warning, after reading it you may experience slight depression and you might want to throw the book across the room. Just because.
He did not want her to know. He did not want her to see. But: Look at me, he found himself thinking furiously at her. Look at me.
She lifted her eyes, and did."
This story is so much more than just about the romance; a fact that infuriated me but also gave me bursts of joy. The first book is all about bringing Kestrel and Arin together, having Kestrel come out of her sheltered perfect life and seeing the world for what it really is (while Arin is plotting to destroy her kind). The Winner's Crime still has the swoon worthy passages that gave me heart palpitations (chapter 8 is one I shall not forget) but it is more about crushing the ties that bind these characters together to bring complete chaos and distrust. These characters are definitely not stronger when they are apart, and already I cannot wait for the third book to fix what was broken (I BETTER get my swoon worthy reunion!).
I love Arin. He is such a hopeful, strong leader. He tries to trust his instincts, not to mention his heart, but at every turn it seems he is crushed down and rejected. He is battling against demons much stronger than him and yet he doesn't give up. He doesn't take the easy way out, and instead ventures out and finds himself some reinforcements for the war that is soon to touch his land. All may had seem pretty resolved in the war front last time we visited the land of Herran, but you best think again.
"If you won't be my friend," she told Verex, "you'll regret being my enemy."
Kestrel is strong, smart as hell, and infuriating. Her biggest flaw is that she doesn't trust (and after that ending really who can blame her), and she doesn't give an inch. Instead of letting people in, and letting them help her, she shies away believing she has to do everything herself. But her heart is in the right place, always is. On the next title she will change in ways I cannot begin to fathom, and I cannot wait to see her crush her enemies.
The Winner's Crime is everything we had been expecting, and more. A sequel done right, it is sure to keep you awake long after your supposed bed time. Marie Rutkoski's beautiful writing is not to be missed, and the swoon worthy passages must be bookmarked for further studies. I already feel like re-reading this title again... god help me.