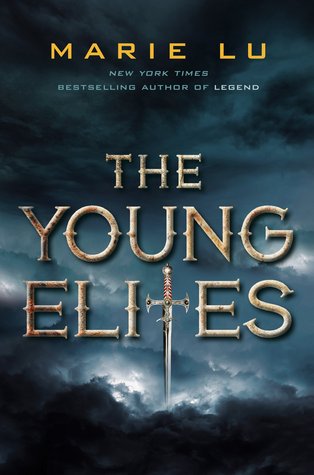 T
itle: Young Elites
A
uthor: Marie Lu
S
eries: The Young Elites
B
ook #: 1
P
ages: 368
R
eading
L
evel: YA
B
ook
R
ating:
G
oodreads
R
ating: 4.00
P
ublished: October 7th, 2014
Adelina Amouteru is a survivor of the blood fever. A decade ago, the deadly illness swept through her nation. Most of the infected perished, while many of the children who survived were left with strange markings. Adelina's black hair turned silver, her lashes went pale, and now she has only a jagged scar where her left eye once was. Her cruel father believes she is a malfetto, an abomination, ruining their family's good name and standing in the way of their fortune. But some of the fever's survivors are rumored to possess more than just scars—they are believed to have mysterious and powerful gifts, and though their identities remain secret, they have come to be called the Young Elites.

Teren Santoro works for the king. As Leader of the Inquisition Axis, it is his job to seek out the Young Elites, to destroy them before they destroy the nation. He believes the Young Elites to be dangerous and vengeful, but it's Teren who may possess the darkest secret of all.

Enzo Valenciano is a member of the Dagger Society. This secret sect of Young Elites seeks out others like them before the Inquisition Axis can. But when the Daggers find Adelina, they discover someone with powers like they've never seen.

Adelina wants to believe Enzo is on her side, and that Teren is the true enemy. But the lives of these three will collide in unexpected ways, as each fights a very different and personal battle. But of one thing they are all certain: Adelina has abilities that shouldn't belong in this world. A vengeful blackness in her heart. And a desire to destroy all who dare to cross her.
Taschima's POV:
The Young Elites introduces us into a world that is part Victorian part Dystopian and ALL Fantasy.. The Dystopian part is kind of reminiscent of the Legend world; same gritty atmosphere. It has the rules that categorize the Victorian area (like girl's not being able to govern themselves and instead they are sold/traded for money, status, power, etc.) but in a world where a strange decease attacked humanity and either killed its recipients or left them scarred for life. Adelina is one of those scarred people, and because she is one of the Malfetto her father is planning to give her away to make his life easier. Adelina manages to escape the grasp of her father, but at a high price. She is saved by the Young Elites, a group of special malfettos who survived the fever with special powers. The Young Elites however do not save Adelina from the kindess of their hearts; they know she has power and they want to use it. Adelina soon is stuck between two impossible decisions, should she betray the Young Elites and save those she loves or should she join them and forsake those who have left her behind?
"Violetta was afraid of thunder.
When we were very little, she would sneak into my bedchamber whenever a storm rolled through. She'd climb into my bed, wake me, an curl her little body against mine, and I'd wrap an arm around her and hum out mother's lullaby as the storm raged outside. I'm not ptoud to admit it, but I've always liked her helplessness. It made me feel powerful. In those small moments, I was the better one"
Adelina is an extremely fucked up character. She is not what we have come to expect from our YA heroines; Fragile, a pure soul that will make everything better. Instead I am a little scared she might make everything WORSE... and not because she is dumb, but because she has a darkness inside her that is wanting to consume her whole. She craves acceptance, having been marked a malfetto, and power. She was abused by her father while growing up, simply because she was one of the unlucky few who got hit with the Fever and survived (minus an eye). Her sister was also hit with the fever but while she came out the same on the other side Adelina was forever marred.
"I know who you really are.Who will ever want you, Adelina?
My fury heightens. Everyone. They will cower at my feet, and I will make them bleed."
As her father continuously repeated to her no one in their right mind would want her, marry her, or accept her. She was garbage and anything fate decided to throw her way she should be happy to get. Verbal abuse wasn't the only kind the father liked to impart however; he also broke one of her fingers when she was very young. So Adelina is justifiably screwed up. You can clearly see this in the way she feels about her sister, both love and resentment, stemming from the fact that her father idolized her little sister while he beat Adelina to a pulp. This also shows on the way she distrusts those around her. Kindness is not something that is given to her without something being taken in return.
"They all want to use you, use you until they get what they want, and then they will toss you aside."
The relationship between Adelina and her sister, Violetta, is sick and twisted. Then again, the whole book kind of is. It doesn't follow what we've come to expect from YA novels, the "YA Rules" if you will. The heroine is not much of a role model, it has plenty of violence and it doesn't shy away from bloody details… It
really
is the origin of a villain's tale. Marie Lu gets brownie points for originality alone.
Something that is truly fascinating about The Young Elites is that in the book there is no absolutely clear good guy. The Young Elites kill to get what they want and need; they want to de-throne the current false King and put a Malfetto one in his place. They will use any and all tools at their disposal, even if this tool happens to be human. If the tool is faulty, doesn't work, or doesn't reach its potential then guess what? They dispose of it. So Adelina is facing danger from all sides, from the Inquisitors that want to get rid of all Elites and normal Malfettos and from the Young Elites who might get rid of her anyways if she doesn't work out. She has no one she can really trust.
Except maybe Enzo Valenciano, the potential love interest. Enzo is distant and slightly cold, which makes it really ironic that his power is to wield fire. I loved how Marie Lu wrote him in a way that seemed real though. He is no prince charming, he has a goal like everybody else. Adelina is not the first girl who has crossed his path, he may have loved and lost. Is she his perfect fit? Is he hers? That is a question which is still left unanswered. The book is not huge on the romance; it is a small part of it.
The ending! It was completely unexpected to say the least.
I really didn't think Marie Lu was going to go there
and kill the prince/love interest! Enzo just flat out dies!

I thought it was very awesome because it drives Adelina that much closer to the darkness but at the same time WHAT THE HELL!?
but she totally did and with no remorse. It definitely left me craving for the sequel...
As I stated in one of my updates as I was reading, if this is wrong then I don't want to be right. I applaud Marie Lu for creating an engaging world with it's own rules and traditions. She again did not disappoint. The Young Elites stands on its own.
"I am tired of losing. I am tired of being used, hurt, and tossed aside.
It is my turn to use. My turn to hurt.
My turn."