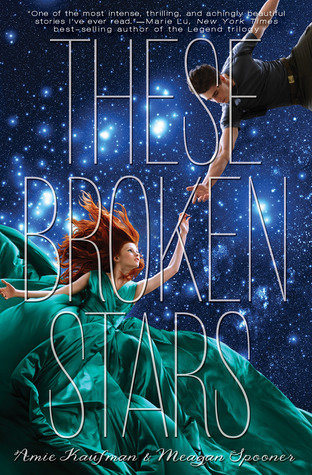 T
itle: These Broken Stars
A
uthor: Amie Kaufman, Meagan Spooner
S
eries: Starbound
B
ook #: 1
P
ages: 374
R
eading
L
evel: YA
B
ook
R
ating:
G
oodreads
R
ating: 3.96
P
ublished: Dec. 10th, 2013
It's a night like any other on board the Icarus. Then, catastrophe strikes: the massive luxury spaceliner is yanked out of hyperspace and plummets into the nearest planet. Lilac LaRoux and Tarver Merendsen survive. And they seem to be alone.
Lilac is the daughter of the richest man in the universe. Tarver comes from nothing, a young war hero who learned long ago that girls like Lilac are more trouble than they're worth. But with only each other to rely on, Lilac and Tarver must work together, making a tortuous journey across the eerie, deserted terrain to seek help.
Then, against all odds, Lilac and Tarver find a strange blessing in the tragedy that has thrown them into each other's arms. Without the hope of a future together in their own world, they begin to wonder—would they be better off staying here forever?
Everything changes when they uncover the truth behind the chilling whispers that haunt their every step. Lilac and Tarver may find a way off this planet. But they won't be the same people who landed on it.
Taschima's POV:
These Broken Stars
rocked my world. Plain and simple. It was everything I didn't know I needed. I devoured it.
These Broken Stars is much alike Titanic at the very beginning of the story, but only in some aspects. The character of Lilac would be Rose, but Tarver wouldn't exactly take Jack's place. Lilac is a society lady but Tarver is a decorated soldier of war. They seem to find each other attractive, but this is not love at first sight. Tarver feels disdain towards Lilac, and Lilac can't risk her or Tarvers life by showing too much emotion. So they dislike each other. Another similarity to Titanic, the boat goes under. Traver and Lilac seem to be the only survivors. They crash into what seems an isolated planet with no sight of life, now all they need to do is survive this barren planet and each other's company. Other than the boat breaking apart that's as far as its similarities to Titanic goes.
"As we leave the river for the foothills, I find myself thinking about the girl in the salon. The one who flirted as easily as she breathed, the one who dodged bodyguards and stayed up all night gossiping. I bear no resemblance to her now, it's as though she no longer exists.And as hateful as she was, I find I miss her. She knew where she stood. She knew what she was meant to do. She had a father who'd stop at nothing to protect her, a world that arranged itself to fir around her. She never had to care about the opinions of one lowly soldier. And it never used to matter when someone lied to her, because that's all anyone ever did."
Lilac was a spoiled brat. If we are to compare this title to Titanic she is clearly Rose. Polished, "well behaved", prim, the very picture of sophistication. Only in secret she learns to fix things, like wires from an escape pod. She is the reason they both survive in the beginning while escaping from the falling ship. Lilac is actually pretty bad ass. She may be a bit cold at the beginning, but it is with good reason. I loved her by the end of the novel, she learns a lot and by the end she grows so much she doesn't even recognize herself.
Tarver: "That's all I ever hear. That's all you got? Try harder. Be richer. Be smarter. Learn which damn cutlery to use. Speak like us. Think like us.Screw that all the way to hell."
Tarver is a soldier. At first he is in survival mode when they land on the desolate planet. He works with missions, plans. His plan at first is to reach the debri of the fallen ship, then to find a way to communicate with the outside world. He is also incredibly annoyed at having to spend time with the socialite princess. She might have rejected him in public at the beginning of the novel, and he might think she thinks she is too good for him. Oops. Soon they both learn to work together however and they both become a half of each other.
I LOVED Taver. His inner dialogue is hilarious, and he can be such a guy.
"There's dresses," she whispers, and I catch a movement in my peripheral vision. Oh, God, come on. It's the mechanic's suit and the ruined green dress being kicked across the floor away from her. So what does that mean she's wearing right now? She didn't actually say I couldn't look."Don't look," she cautions me, as though she just read my mind. Dammit."
Yes the story is told with two POVS which makes it so much better because you get to know both characters all close and personal. The only thing I was still curious about Tavers was that he never actually explains why he is such a decorated hero even though he is so young. That I found hard to believe, but supposedly the authors are writing a novella (This Night So Dark) which gives us more background on Tavers. He seemed to be very concentrated on the now when it came to These Broken Stars so the novella is welcomed. I want it so bad... it's coming out Oct. 2014.
These Broken Stars is like the Katie McGarry of romances, only in space. Heavy on the sci-fi, but just as heavy with the romance. It kind of reminds me of the tag they used for The Host by S. Meyer, "science fiction for those who don't like science fiction". The whole book the characters are just trying to survive these incredibly difficult conditions they have found each other in. Their romance... I was swept along. I love their love. There were parts of the novel that broke my heart. Tears might have escaped, I am not even kidding. Not a lot of books can make me cry but this one nailed me. Just, beware of chapter thirty one. Soul crushing.
I was never bored. I can't wait to go back to their world in Shattered World. It's with different characters but it doesn't matter as long as Amie Kaufman and Meagan Spooner are the writers. The magic comes from them. These Broken Stars is NOT one to miss, please just pick it up as soon as possible. Such a good story!