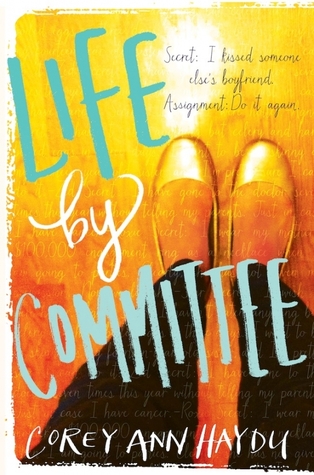 T
itle: Life by Committee
A
uthor: Corey Ann Haydu
S
eries: n/a
B
ook #: 1
P
ages: 304
R
eading
L
evel: YA
B
ook
R
ating:
G
oodreads
R
ating: 3.65
P
ublished: May 13th, 2014
Some secrets are too good to keep.
Tabitha might be the only girl in the history of the world who actually gets less popular when she gets hot. But her so-called friends say she's changed, and they've dropped her flat.
Now Tab has no one to tell about the best and worst thing that has ever happened to her: Joe, who spills his most intimate secrets to her in their nightly online chats. Joe, whose touch is so electric, it makes Tab wonder if she could survive an actual kiss. Joe, who has Tabitha brimming with the restless energy of falling in love. Joe, who is someone else's boyfriend.
Just when Tab is afraid she'll burst from keeping the secret of Joe inside, she finds Life by Committee. The rules of LBC are simple: tell a secret, receive an assignment. Complete the assignment to keep your secret safe.
Tab likes it that the assignments push her to her limits, empowering her to live boldly and go further than she'd ever go on her own.
But in the name of truth and bravery, how far is too far to go?
T
aschima's
POV
:
Life by Committee is an intense read about a girl trying to re discover who she is even though everybody else has essentially given up on her. People in this novel are not nice, or understanding, or supportive. Even the parents fall short and all Tabitha has is herself and about a dozen other people she met in a clandestine online website. The rules of the website are simple, tell a secret, get an assignment, complete the assignment in order to stay in the group. These assignments are supposed to make their members experience life beyond their boundaries. They are supposed to make their members take wild stabs at life. Tabitha is enthralled by the group, that is until the assignments start getting too serious.
I loved how confused and pained Tabitha is. I know, it sounds awful but Tabitha's pain made her that much more interesting. Her friends dump her because she makes the conversion from child to woman too fast for their taste. She starts paying attention to her appearance, likes makeup, isn't scare to wear a V neck shirt and suddenly her friends drop her and starts talking about her behind her back. Telling people how she is going down a bad road, essentially they slut shame her. Which is freaking uncool. The way Tabitha keeps her head up, even though her heart is breaking, is really brave. She isn't all innocent however, she gots her eye on another girl's boyfriend. And he is totally leading her on...
Sometimes I didn't agree with Tabitha's decisions at all. But then again I could see how she would get to where she was at with everybody essentially pushing her aside. The Life by Committee website is intriguing. I can certainly understand the appeal of having people who you are totally honest to and who push you out of your shell, plus don't judge you.
So yeah, Tabitha isn't a perfect girl, and she really is lost. When everybody lost their good perception of her she started to loose her own self-perception. The novel went by fairly quickly too, read it in less than a day. I recommend it and I am adding everything else Corey Ann Haydu to my to-read list as well!