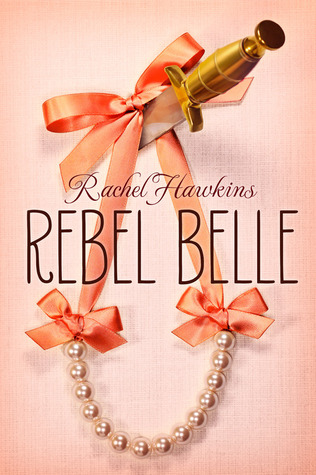 T
itle: Rebel Belle
A
uthor: Rachel Hawkins
S
eries: Rebel Belle
B
ook #: 1
P
ages: 352
R
eading
L
evel: YA
B
ook
R
ating:
G
oodreads
R
ating: 3.96
P
ublished: April 8th, 2014
Harper Price, peerless Southern belle, was born ready for a Homecoming tiara. But after a strange run-in at the dance imbues her with incredible abilities, Harper's destiny takes a turn for the seriously weird. She becomes a Paladin, one of an ancient line of guardians with agility, super strength and lethal fighting instincts.
Just when life can't get any more disastrously crazy, Harper finds out who she's charged to protect: David Stark, school reporter, subject of a mysterious prophecy and possibly Harper's least favorite person. But things get complicated when Harper starts falling for him—and discovers that David's own fate could very well be to destroy Earth.
With snappy banter, cotillion dresses, non-stop action and a touch of magic, this new young adult series from bestseller Rachel Hawkins is going to make y'all beg for more.
Taschima's POV:
"So, Harper Jane Price. Are you ready to accept your destiny?"
I withdrew my hand. "No, thank you."
I don't know about Legally Blonde meets Terminator, but it is definitively Legally Blonde meets Buffy which kicks so much ass I can't even contain my giddiness for the sequel. I read it in like a day, it is one of
those
books.
"Five minutes ago my main concern had been whether Salmon Fantasy would clash with my pink dress. Now I was cradling a dying man on the bathroom floor while some crazy person pounded on the door."
Harper, or Per as her friends call her, is definitely a different sort of heroine. She is confident, straight A student, a little extra controlling, fashionable, the kind of girl who aims to be the best of the best in every category. She is a lot self centered, and this is something she battles with throughout the novel. However, she is also very likable. The author keeps a balance in her character that keeps her on this side of the line before she crosses into bitchy territory. I had so much fun reading from her POV! She tries to fight her "destiny" with all she's got, but she also can't just look away when someone clearly needs help (whether it be bodily defending someone, or giving them a wake up call on their fashion choices). She is the perfect blend of sugar, spice, and everything nice, which is why I loved her.
There is a lot of character development in this book. At the beginning I thought the book was going to be set in another decade, but no it is set in the 21st century. They discuss throughout the title various southern traditions, how outdated some people find them and how others cling to them for dear life. I really liked the world development because even though it was set in our time the author really took extra care to create that southern flare, so much so that I felt like I had dived right into the book and landed smack dab in the South.
I also enjoyed Per's relationships. She is a committed friend, and while she has to hide things from her best friend she certainly takes the time to make her feel included and cared for. At the beginning of the title Per has a boyfriend, the most popular boy in school of course, but as the title progress you get to see how strained their relationship becomes due to Per having to hide so much of herself from him. Again, it is written just right.
David Stark, the boy Per has to protect, is not your typical male romantic lead. He is not a bad boy, he is a reporter who keeps poking fun at Per and all she does. He is charming, but not a charmer. I get the feel he is the boy who likes to keep to the sidelines, in his hipster glasses, observing and occasionally wondering what is wrong with the universe. His relationship with Per is love/hate, which is why it is so difficult for her when she finds out she has to protect HIM.
The first chapter kicks ass, a great beginning to a fun lovable read. While I do not like the cover for Miss Mayhem I shall buy the book as soon as I get the chance and start reading it. This is a series that is too good to pass up.