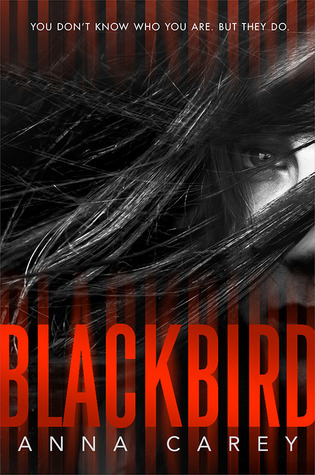 T
itle: Blackbird
A
uthor: Anna Carey
S
eries: Blackbird Duology
B
ook #: 1
P
ages: 256
R
eading
L
evel: YA
B
ook
R
ating:
G
oodreads
R
ating: 3.49
P
ublished: September 16th, 2014
This twisty, breathless cat-and-mouse thrill ride, told in the second person, follows a girl with amnesia in present-day Los Angeles who is being pursued by mysterious and terrifying assailants.
A girl wakes up on the train tracks, a subway car barreling down on her. With only minutes to react, she hunches down and the train speeds over her. She doesn't remember her name, where she is, or how she got there. She has a tattoo on the inside of her right wrist of a blackbird inside a box, letters and numbers printed just below: FNV02198. There is only one thing she knows for sure: people are trying to kill her.
On the run for her life, she tries to untangle who she is and what happened to the girl she used to be. Nothing and no one are what they appear to be. But the truth is more disturbing than she ever imagined.
Taschima's POV:
So me and Blackbird were not getting along at all at the beginning. The 2nd Person Point of View was distracting and jarring; it kept knocking me off balance and distracting me. I actually didn't enjoy myself until after page 100, when things finally start to get interesting and instead of running blindly a picture starts to form and connections begin to be made. I almost did not finish this one, but by the end there I was actually glad I stuck along. What at the beginning seemed to me to be a long boring story of a girl running and hiding by the end turned into an exciting tale with a lot left yet to explored.
I dare say Blackbird might not be one to miss; I'm already picturing how the second book will turn out.
Self named Sunny is the girl on the run. We don't know much about her, not her background or her physical attributes.
Blackbird invites you to picture yourself as the girl in the run
; Sunny has no distinct characteristics that might make her stand out, only a bunch of scars and she has dark hair, but that only further allows you to blend into the character and imagine yourself as being her.
You
are on the run.
You
don't remember anything about yourself, or why you feel on edge. Who is coming after you? The whole novel is about answering those questions so giving any further details away would cheat you from the answers revealed throughout.
Though that is not to say that the answers in themselves are entirely unprecedented. But what
Blackbird has going for it is it's unique writing style (which takes a little bit to get used to) and the sense of urgency throughout
. The ending really hooked me though. I really want to know what happens next, and isn't that after all the great hallmark of a good novel? It might have taken Blackbird an unusual amount of time to hook me but hook me it did.