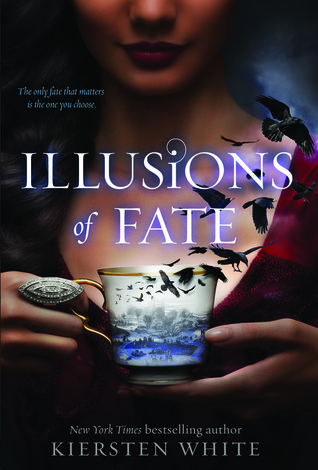 T
itle: Illusions of Fate
A
uthor: Kiersten White
S
eries: n/a, sadly.
B
ook #: 1
P
ages: 288
R
eading
L
evel: YA
B
ook
R
ating:
G
oodreads
R
ating: 3.90
P
ublished: September 16th, 2014
"I did my best to keep you from crossing paths with this world. And I shall do my best to protect you now that you have."
Jessamin has been an outcast since she moved from her island home of Melei to the dreary country of Albion. Everything changes when she meets Finn, a gorgeous, enigmatic young lord who introduces her to the secret world of Albion's nobility, a world that has everything Jessamin doesn't—power, money, status…and magic. But Finn has secrets of his own, dangerous secrets that the vicious Lord Downpike will do anything to possess. Unless Jessamin, armed only with her wits and her determination, can stop him.
Kiersten White captured readers' hearts with her New York Times bestselling Paranormalcy trilogy and its effortless mix of magic and real-world teenage humor. She returns to that winning combination of wit, charm, and enchantment in Illusions of Fate, a sparkling and romantic new novel perfect for fans of Cassandra Clare, The Madman's Daughter, and Libba Bray.
Taschima's POV:
For some reason I've always liked Kiersten White's writing. I like her spunky characters, her effortless dialogue, and the world building! Illusions of Fate offers something special to the YA Historical/Fantasy genre. It is full of magic, daring, and enchantment. I was hooked from the very first page.
Jessamine is a foreigner in the country of Albion. Having gone there to study (and to escape her mother's attempts at getting young gentlemen to propose to her) Jessamine has to work trice as hard as everybody else in her school because she is first a woman interested in the mathematics and two a foreigner from a small island considered to be full of primitive folk. And so she studies and works in order to take care of herself. One day while heading home she meets Finn, a young Lord who seems to have a little too much interest in her... and pretty much after that her life was never the same. Because you see, Finn has enemies and those enemies have locked on to Jessamine with a fierce force of will. Jessamine soon gets herself into a world unlike her own full of wealth, politics, and glorious magic.
The man pauses, obviously surprised to see how dark of skin and eyes I am in spite of my school uniform. And so I take the opportunity to insult his manhood, his lineage, and his horse in a single, well-crafted turn of phrase I haven't used since my friend Kelen taught it to me when I was fourteen.
He smiles.
I smile back.
To even dream of changing her course of life Jessamine already had to have had a strong backbone, and she does. She takes care of herself and wont let the country of Albion get her down. She was probably the best part of the whole book, her dialogue made me laugh out loud and she is just the kind of character that keeps you glued to the page. All the characters were entrancing in their own way, but Jessamine was my favorite.
"He follows my eyes and curses, then slides his hands beneath my legs and back.
"What are you doing?"
"Picking you up so we can run!"
"Don't be daft, my hand is broken, not my feet!"
"Right, that was stupid. Stupid." He helps me up by my elbow. "This way!"
Lord Finn is a quiet unassuming guy to the rest of the world. He is anything but. Quiet by necessity, Finn tries not to create ties with anybody in order not to put them in danger, but Jessamine is a complication he hadn't seen coming. At first Lord Finn was what you expect from a noble English man back in the day; proper, wanting Jessamine to do as he says without question, and overprotective. But this all works out for the best because you get to see how Jessamine brings him down a peg or two. She is not a wilting flower, she is clever and strong and no man need save her.
Lord Finn, after getting over himself, turns out to be a very sweet guy and just about the perfect counterpart to Jessamine's fire.
Another character that stands out is Jessamine's eventual friend Eleanor.
"They're wrong you know. About you. Your uncle and Lord Downpike. You are smart and brave and terribly important."
[Eleanor] She laughs. "Oh, I know that, silly. Bit it's easier not to let them realize it, because then they'd stop ignoring me, and they'd realize how much mischief I really get up to."
Eleanor is an example of how the women in Illusions of Fate are. Strong, brave, using their supposed "weaknesses" to their advantage... Kiersten White always writes strong female characters. She empowers them in different ways but they always come out as marvelous. Eleanor was such an interesting character; I wouldn't mind reading a novella, or even a full book, from her POV.
It is such a shame that this book is a stand alone! I felt like things could have been prolonged, but better a great stand alone than a drawn out series with little flair I suppose. Nonetheless I cannot wait for Kiersten's next project, and I'll be sure to keep my copy of this book close at hand for future re-reads.