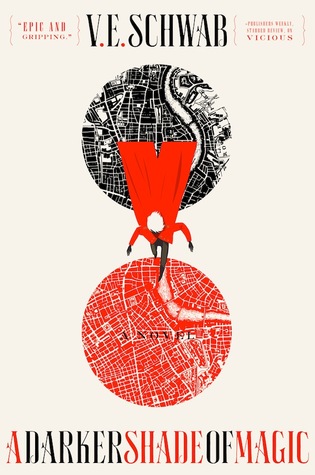 T
itle: A Darker Shade of Magic
A
uthor: V. E. Schwab
S
eries: A Darker Shade of Magic
B
ook #: 1
P
ages: 400
R
eading
L
evel: Adult
B
ook
R
ating:
G
oodreads
R
ating: 4.26
P
ublished: February 24th, 2015
Kell is one of the last Travelers—rare magicians who choose a parallel universe to visit.

Grey London is dirty, boring, lacks magic, ruled by mad King George. Red London is where life and magic are revered, and the Maresh Dynasty presides over a flourishing empire. White London is ruled by whoever has murdered their way to the throne. People fight to control magic, and the magic fights back, draining the city to its very bones. Once there was Black London - but no one speaks of that now.

Officially, Kell is the Red Traveler, personal ambassador and adopted Prince of Red London, carrying the monthly correspondences between royals of each London. Unofficially, Kell smuggles for those willing to pay for even a glimpse of a world they'll never see. This dangerous hobby sets him up for accidental treason. Fleeing into Grey London, Kell runs afoul of Delilah Bard, a cut-purse with lofty aspirations. She robs him, saves him from a dangerous enemy, then forces him to another world for her 'proper adventure'.

But perilous magic is afoot, and treachery lurks at every turn. To save all of the worlds, Kell and Lila will first need to stay alive — trickier than they hoped.
Taschima's POV:
"But the thing about magic is that it preys on the strong-minded and the weak-willed, and one of the worlds couldn't stop itself. The people fed on the magic and the magic fed on them until it ate their bodies and their minds and then their souls."
I have the hardest time reviewing titles I enjoy (or love as in this case). I feel like I am all praise, and the praise just starts to blend together and what you are left with is one big gushing review full of compliments. Well, if I am to do that again I might as well do it for A Darker Shade of Magic, because hot damn does this title deserve the praise. It has it all, fantastic world building, relatable and boundary breaking characters, with a nice side plot to bring it all together.
A Darker Shade of Magic is my first V. E. Schwab read. I have other books by her, like her YA novel The Archived and The Near Witch as well as her debut adult novel Vicious (which I've heard is phenomenal), but while I have them I didn't feel as drawn to them as I felt to A Darker Shade of Magic. Maybe perhaps because of its beautiful cover, or maybe because this is Schwab's first honest to god foray into full on Fantasy.
"Grey for the magic-less city.
Red, for the healthy empire.
White, for the starving world."
I loved her world building. Creating one world is hard enough, but creating
three
four worlds which are situated in the same geographic location while being entirely different? It was something that if not done right could have made the read a terrible disaster. But V. E. Schwab paints these different worlds with such care and attention to detail that you are left with a clear picture in your head, a picture you wish you were able to visit for your own no matter the consequences. Gray London is just like our London, set in the Victorian era (there were corsets and swooning ladies), only drab and gray and not special in any way. Red London is where it is, it is majestic and full of magic, whimsical. You could say the world is perfect, only it is not. Red London flourished by letting their neighbor world, White London, take the blunt of the magical plague which was/is Black London. Thus White London ends up being a world that is best described by the worlds blood, ash, and metal. It is a desolate land that holds desperate souls. Black London... well no one speaks about it for a reason. There is no clear description of the setting, but the feeling you get from it from just the descriptions is enough. A hollow husk full of pure magic.
The characters were just as developed. You have Kell, the powerful Antari who is but a messenger between the worlds. He is one of the only two people in the world who gets to visit all the Londons. He is also royalty. He was raised by the king and queen of Red London (adopted of sorts), and finds a brother in their son Rhy. Kell has everything he could ever need, and yet he still feels hollow. He takes up smuggling items from one London to the Next as a way to distract himself, rebel, or maybe not feel like such a taken care of pet to the crown. He understands the reason the King and Queen take care of him, they need him, or so he tells himself. The only person he is sure that loves him in his life is his dear brother Rhy, and he will do anything in his power to make sure Rhy is protected. Even, perhaps, travel to the farthest reaches of his world in order to set things straight.
"A delicious thrill ran through her chest, spurned on by the closeness of danger, and Lila wondered, not for the first time, if something was wrong with her."
"Lila Bard knew in her bones that she was meant to be a pirate. All she needed was a working ship."
Lila is quite honestly a bad ass. She is sure she was born to be a pirate, to travel the world and discover new places. Little did she know that she was bound to meet the one person who could play the part of her ship and bring her to different worlds. Kell and Lila don't meet on the best of terms. Lila is an honest to god thief, though not completely ruthless she wouldn't mind killing you if you deserved it. So she naturally steals something from Kell, and Kell proceeds to hunt her ass down. There is no lost love between these two, they help each other more out of a sense of duty than anything else. Lila helps Kell because Kell has something she wants, and Kell lets her because he can't save the world on his own. Lila is also a great way to ground Kell, she gives it to him straight and doesn't worry about protecting his feelings. When Kell is being a whiny bitch Lila tells him so, and then tells him to get over himself. Did I mention I loved her?
"Why anyone would ever pretend to be weak was beyond her."
I think of A Darker Shade of Magic kind of like a prequel to when the real story begins. You get the sense that things are in peril in this novel, but you also don't really feel threatened or even that scare for your main characters because you just know that shit is about to hit the fan in the sequel. A Darker Shade of Magic worked to set up the stage, the rules of magic (very thoroughly), and allowed us to care about these characters. The sequel, I bet, is bound to just screw with the world we have come to care for in a number of ways we hadn't even expected. And I cannot wait.
Author Spotlight
Q:
For each color London (Red, White, Gray... Maybe Black?), can you give us one book recommendation that would sort of be perfect for each setting?
V. E. Schwab: Oh, great question! Let's see:
Grey London
: Jonathan Strange and Mr. Norrell by Susanna Clarke or Neverwhere by Neil Gaiman
Red London
: The Lies of Locke Lamora by Scott Lynch
White London
: The Way of Kings by Brandon Sanderson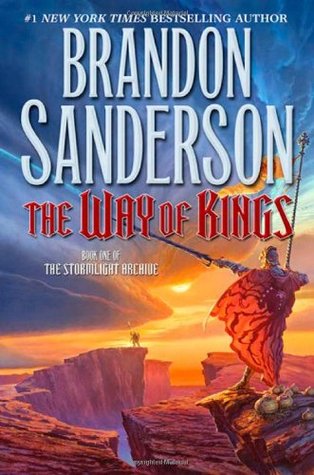 Black London
: Sabriel by Garth Nix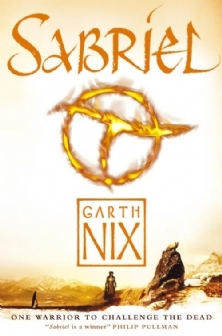 GIVEAWAY: One copy of A Darker Shade of Magic and one double-sided signed poster that features the US and UK covers
For more Darker Shade of Magic Bonus Content please visit:
Darker-Shade.com
- a special website for A DARKER SHADE OF MAGIC that is full of information and materials for readers.
·A
video
featuring V. E. Schwab exploring London and discussing the book.
·
A fun Buzzfeed Quiz you and your readers can take that will sort you into a magical London.