I shall read some of these books... just as soon as I finish
Mime Order
(Samantha Shannon), and
Timeless
(Gail Carriger), and every other title I said I would finish by last month... #BookwormWoes
Here are seven (!) titles that are going to be released within the next week:
If you are looking to start a brand new series...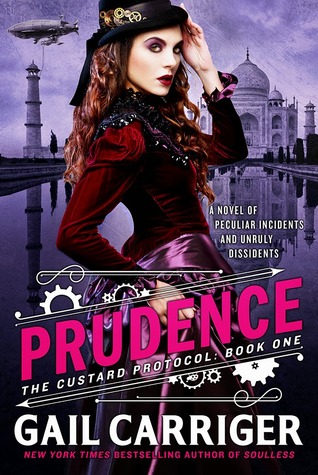 I am SO EXCITED for this title. I actually got this one at ALA Midwinter 2015 in Chicago, but I haven't been able to read it because I am currently finishing up it's predecessor series The Parasol Protectorate (which is about Prudence's mother, Alexia Tabarotti). I absolutely love Alexia, and in the last book of her series, which I am currently reading, we get to meet Prudence as a young child. So far she seems to be a handful which is just about right considering who her mother is (not to mention her werewolf father).
In honor of Prudence's release I am going to be posted a special Dream Cast post, dream casting every character of importance in the Parasol Protectorate series as well as Prudence as a small child. I am extremely excited about this release!! If you haven't read the Parasol Protectorate series, or the Etiquette and Espionage series, you absolutely MUST! The dialogue in the books is reason enough, not to mention Alexia's character, the way Gail Carriger makes her scenery and characters just shine and click. She single-handedly got me into Steampunk genre.
If you are looking for a stand alone title...
If you happen to be looking for a stand alone title, well, you are certainly in luck cause this week it seems to be all about the stand alones! I am particularly interested in
Never Gonna Tell
because it sounds very ala Veronica Mars, and I LOVE VM. I am also interested in
The Perilous Journey of the Not-So-Innocuous Girl
(wow, a mouthful) because I've heard (well, read) good things. If you arelooking to read those two, and have a kindle, you are in luck cause
Never Gonna Tell
is only $.99 cents (quite possibly because it is self published) and then The Perilous Journey of the
Not-So-Innocuous Girl
(I'll be honest, I copied and pasted that title) in under $4.00. Quite a steal if you ask me.
If you are looking for sequels...

I shall be honest and say I have NOT read the first book in this series, but if you do, well, the next one is out tomorrow! This is the third installment in the series, with the first one being
Pretty Crooked
.
For even MORE releases please visit my Pinterest at:
TaschimaCullen.
In it I have individual boards dedicated to YA Releases from 2014- onward by month of release. I update it daily :)