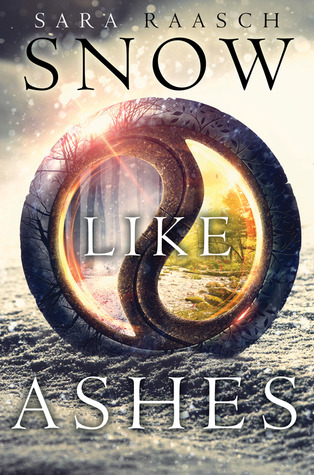 T
itle: Snow Like Ashes
A
uthor: Sara Raasch
S
eries: Snow Like Ashes
B
ook #: 1
P
ages: 391
R
eading
L
evel: YA
B
ook
R
ating:
G
oodreads
R
ating: 4.07
P
ublished: Oct. 14th, 2014
With shades of The Hunger Games, Ender's Game, and Game of Thrones, debut author Pierce Brown's genre-defying epic Red Rising hit the ground running and wasted no time becoming a sensation. Golden Son continues the stunning saga of Darrow, a rebel forged by tragedy, battling to lead his oppressed people to freedom from the overlords of a brutal elitist future built on lies. Now fully embedded among the Gold ruling class, Darrow continues his work to bring down Society from within. A life-or-death tale of vengeance with an unforgettable hero at its heart, Golden Son guarantees Pierce Brown's continuing status as one of fiction's most exciting new voices.
Taschima's POV:
People in the light, not just words in the dark.
Someday we will be more than words in the dark.
Winter and Spring are at war... and Spring is winning. Twenty-five Winterians were able to escape the first onslaught. Sixteen years later and there are only eight survivors left. Among the survivors is Meira, a war orphan who's sole wish is to help in the recovery of their kingdom's only hope at fighting back--winter's conduit.
This conduit will help Winter focus their magic in the hands of a true heir. Only problem is that Winter's current monarh is a male and the conduit only works for female heirs. Not only this, but the conduit was broken in two by Spring's king and he keeps them in constant movement, making it near impossible for the surviving Winterians to get it back. Also, did I mention there is only eight survivors left? The rest of the remaining Winter population is in working camps, and no other kingdom seems willing to help. The odds are stacked against Winter so incredibly high it is a little daunting to think they even have a chance.
But they are one mission away from finally getting some concrete information on the location of one of the conduit pieces, and Meira is ready to help put their kingdom back into power however she can... even if she has to sacrifice herself in the name of the crown.
"The world may seem balanced--four kingdoms of eternal seasons, four kingdoms that cycle through all seasons; four kingdoms with female-blooded conduits, four with male-blooded. But it's not balanced--it will always be tipped in favor of monarchs who have magic versus people who don't..."
This fantasy book was so well done it makes me want to cry happy tears. I love the idea of the Kingdoms being called after seasons. I enjoyed the conflict between Spring and Winter, though I would have liked to get to know the people of Spring more to give the kingdom a background or at least make me care if a magical atomic bomb were to be dropped on them. I felt immensely for the Winterian survivors, both the ones that managed to escape the onslaught of Spring and those who were captured and put into slave camps.
"It doesn't matter what I would do with magic, because leaders are valued for the wrong things."
But what really shone were the characters. The Winter Kingdom is a Matriarchy, and who that puts pressure on is Mather, the only heir (who happens to be male) because he knows that even if they find their magical conduit there is little to nothing he can do to use it. He knows his people would prefer an evil queen who can help to a king with good intentions but zero power, and that is just a sad truth. He won't let that little fact get him down however and so he keeps on fighting to free their people and restore his kingdom.
"The Winterians would probably rather have a cruel queen than a king with good intentions, because with a queen, they at least have a chance that the magic can be used for them."
Mather is sweet and strong and even though he clearly has feelings for Meira he never tries to overprotect her or hold her back. He lets her make her own decisions and even helps her get what she strives for (which is more outside missions that will help rescue their people/country). Which is why it makes it so difficult when Theron shows up.
"The sudden barrage of Theron in front of me with Mathew closing in makes me feel like I'm caught weaponless on a battlefield."
Theron is the Cordellan prince, the son of one of the only Kingdom's that is willing to come to Winter's aid... but for a price. Theron however is nithing like his greedy father; he is a scholarly man, a poet. He knows everybody in his castle and he cares about what happens to them. He is a good, kind man, and also a brave one on top of that. The love triangle is not in your face, it is not annoying or crass. I actually did not mind it at all, the only thing that bothered me is that both boys are so incredibly honorable and god damn awesome that I could not hate either one.
"You may have me trapped in this." I tug him off me. "But you aren't the first man to underestimate me, so may I advise you to start treating me with a little more respect, King Noam."
"I fought so long and so hard to be me, to be Meira in all of this. To help Winter in my own unique way--but this isn't about what I want, it's about that Winter needs. It's always been about what Winter needs."
I love Meira. She is so strong! She really tries, and she LOVES her kingdom. All she wants to do is save her people, put Mather back in the throne, and prove her worth. She also has hilarious one liners. She grows so much during the novel, realizing and accepting that sometimes not everything goes as you planned. I just can't wait to read the second book again just so I can see how she has changed.
"Congratulations, everyone," I announce as I open the door to Noam's study. "You've finally broken Meira, the crazy, orphaned soldier-girl. She's snapped, all thanks to the mention of floral arrangements."
Snow like Ashes was one of my favorite reads this year. The ending might not have been as shocking (because you can figure it out pretty quickly) but the road getting there was still so very enjoyable I couldn't have cared less. I want the second book right now!!
Recommended for fans of: Throne of Glass.