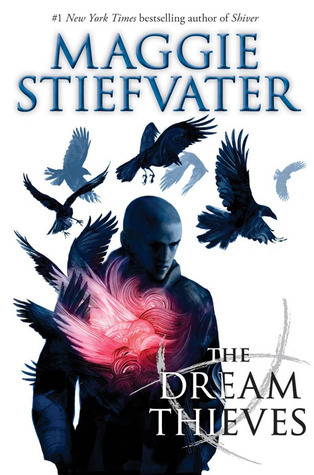 T
itle: The Dream Thieves
A
uthor: Maggie Stiefvater
S
eries: The Raven Cycle
B
ook #: 2
P
ages: 416
R
eading
L
evel: YA
B
ook
R
ating:
G
oodreads
R
ating: 4.26
P
ublished: Sept. 17th, 2013
Now that the ley lines around Cabeswater have been woken, nothing for Ronan, Gansey, Blue, and Adam will be the same.

Ronan, for one, is falling more and more deeply into his dreams, and his dreams are intruding more and more into waking life.

Meanwhile, some very sinister people are looking for some of the same pieces of the Cabeswater puzzle that Gansey is after...
Taschima's POV:
Dream Thieves
, the continuation to
The Raven Boys
, is captivating, weird, and magical. It is essentially the story of four boys, and a 5th wheel girl, in their quest to find a centuries dead Welch king--Glendower. In the last installment Adam had gone off on his own and sacrificed a part of himself in order to get them all closer to finding Glendower's grave by waking the ley line (a powerful river of energy that surrounds us all). They also all found out Noah's and Ronnan's big secrets; Noah is a ghost and Ronnan can take tangible things out of his dreams.
Dream Thieves
focuses more on Ronnan, taking Blue out of the spotlight. What I enjoy about these books however is that no matter who is telling the story the rest of the characters still have things going on. Gansey is still looking for the Welch king and trying hard to be the voice of reason among his friends, Blue is still struggling with her "curse", Adam is being tormented by apparitions, and Noah is literally not even there for more than 50% of the book because something, or someone, is fucking with the ley line (which is essentially what is keeping him "alive"--or at least in this dimension).
Ronan is a very complicated character. He doesn't really want to watch the world burn, he is just really on edge. He has fears and dark baggage he carries along on his shoulders concerning his family; his father was an asshole who died way too soon, his mother is comatose, his older brother is the devil and his younger brother is the angel he could never be. Plus he has this really cool ability he isn't able to control, more like it controls him. All this builds up inside him making him a very unpredictable ticking time bomb.
The rest of the characters are dealing with their own baggage as well. Blue is still worried she might kill Gansey is she kisses him (which seems so trivial in comparison with everything else that is happening in the novel; I wish Blue had more of a role in the search for Glendower), though she is also trying to make a connection come out of thin air with Adam (which is putting Adam on edge because she is sending him all kinds of signals; I kind of feel for the guy). She shouldn't be leading Adam on, specially when she clearly knows that it is never going to work. On the other hand her relationship with Gansey is true and the romance is simmering. I think in the entire 400+ pages they had maybe two romantically tense moments and they were very well worth it. The romance is intense and Maggie Stiefvater knows how to give you just enough to keep you hooked. Though it also bothers me that Blue's contribution to the story is mainly the romance; she herself can't do much except be there for the boys and offer her family's services. Her family on the other hand is a very colorful bunch of ladies who could very well deserve a novella each. I would read the heck out of that.
We get to also meet some new characters, as well as learn more about some old characters that might have seen trivial before but aren't anymore. The Gray Man, new character, was a fantastic antagonist. For the better part of the novel I didn't know if I should hate him or not, and that is kind of the point. Mr. Gray is complicated, he is a hit man (something he doesn't much hide) but he is also a scholar. He is hunting for the Greywaren, beating people up and killing people but you also get the sense that he isn't all bad (which makes us insane because if this man existed in real life he would clearly belong in a prison cell). He is redeemable in that he has an honor code he goes by, and you get the sense he is a lost man who is in bad need of a stable home environment. I cannot wait to read more of him in the next installment. His relationship with the Sargeant family is special and comforting, and even though he is a hit man I can't help but want this exceptionally disturbed man to have a HEA.
Dream Thieves
is truly worth the read. Maggie Stiefvater is a terrific author; her writing is dreamy and occasionally humorous. She creates characters that are interesting, three dimensional, heart breaking and heart warming. I love her words and her world and I wish to visit it once more in her next installment
Blue Lily, Lily Blue
.