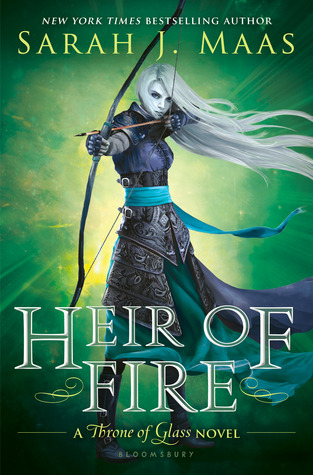 T
itle: Heir of Fire
A
uthor: Sarah J Maas
S
eries: Throne of Glass
B
ook #: 3
P
ages: 565
R
eading
L
evel: YA
B
ook
R
ating:
G
oodreads
R
ating: 4.59
P
ublished: September 2nd, 2014
Lost and broken, Celaena Sardothien's only thought is to avenge the savage death of her dearest friend: as the King of Adarlan's Assassin, she is bound to serve this tyrant, but he will pay for what he did. Any hope Celaena has of destroying the king lies in answers to be found in Wendlyn. Sacrificing his future, Chaol, the Captain of the King's Guard, has sent Celaena there to protect her, but her darkest demons lay in that same place. If she can overcome them, she will be Adarlan's biggest threat – and his own toughest enemy.
While Celaena learns of her true destiny, and the eyes of Erilea are on Wendlyn, a brutal and beastly force is preparing to take to the skies. Will Celaena find the strength not only to win her own battles, but to fight a war that could pit her loyalties to her own people against those she has grown to love?
Taschima's POV:
"When they'd let me out, so much of my mind had shut down in the darkness that the only thing I could remember was that my name was Celaena. Celaena Sardothien, arrogant and brave and skilled, Celaena who did not know fear or despair, Celaena who was a weapon honed by Death."
Such a good, long,
satisfying
book. Heir of Fire is so far my favorite book in the series, I am not even kidding. I love how Sarah J Maas has slowly but surely gathered all the pieces of all her previous books, and novellas, together to make this one shine the brightest. I would definitely recommend anyone reading this book to pick up [book:The Assassin's Blade|18243700] because there are a lot of references to the novellas you might not get otherwise. Heir of Fire is the darkest and brightest of her books, full of despair, sadness, and sacrifice, but by the end there also full of hope.
Heir of Fire is told in like, seven different POVS. The book is in third person POV though so it isn't bothersome at all. It was just interesting to be able to see what everybody was thinking, where their alliances lied, what they were planning... and even then Sarah J Maas managed to keep some vital information secret from us. She is SUCH a good writer I can't even. The story is more than 500 pages long, but I swear I would have kept on reading even if it was 1,000. I hope the next book is just as long!
Celaena is utterly devastated after she lost Nehemia. But than again, aren't we all? She pretty much spends her time in Wendlyn picking fights and drinking wine while laying atop roofs. She just can't seem to foster the energy to do anything productive, until one person comes and picks her up to bring her back to confront a side of herself she had been hiding from for 10 years. At Adarlan Chaol is questioning everything he has been sworn to protect and Dorian is trying not to loose his shit. Oh the happy trio. We are also introduced to some new characters like Aedion, the ruthless Wolf of the North and general to the king who so happens to be Celaena's cousin, Manon, a Blackbeak witch who has been summoned along with her clan to aid the king in the war, Sorscha, the quiet healer who nobody paid attention to but who is full of secrets, and Rowan, the Fae warrior who came out of nowhere to create havoc in Celaene's life (and to steal my heart, if I might add). I enjoyed every single one of the new characters in their own way, and I even rooted for the ones that are toying the line between potential good and damnable evil.
She was Aelin Ashryver Galathynius--and she would not be afraid."
In Throne of Glass Celaena was competing to be the king's champion. It was a game, a deadly one but still just a game. The stakes were relatively low when comparing with this title. Heir of Fire is about so much more, and the stakes have never been greater. Celaena is not just Celaena anymore, she is Aelin Ashryver Galathynius and she has a fuck ton of people to protect and a lot of time to make up for. She is not just fighting for her freedom, or for love, she is fighting in order to free her entire kingdom. We are talking big scale here, and it shows. But it is not only her who is upping her game, all the characters are. Chaol is making big life altering decisions, and Dorian is already there but he is standing his ground against his tyrant of a father. I love Dorian, and Chaol is all right I guess. A bit too confused for my liking, you would think he could reach a decision a bit quicker.
When it comes to romance there is a lot of heart ache, but other than notorious Dorian who managed to find himself another girl to make googly eyes after (they are actually REALLY DAMN CUTE and they deserve each other) Celaena didn't really spend much time thinking about her love life. She spent a lot of her time grieving, for her dead friend, for her lost family, for her lost identity. There is a lot of learning and training and picking herself up. She is the weakest and the strongest she has ever been in this novel and I love her for it.
THAT ENDING
It was BRUTAL. Sarah J Maas doesn't spare feelings. As I told my friend, Sarah J Maas is like the George RR Martin of the YA scene, if she must kill her beloved characters to make the story progress, character who we have come to love and cherish, she will. She has already killed so many, it just scares me for the future of the series. There are still three books left! Who else will die?! I don't know, but I am seriously dying to find out. I want everything to work out so badly, but I know casualties are bound to happen. I don't know if my heart will be able to handle it.
I LOVE this series and I would recommend it wholeheartedly to any reader. It is YA fantasy at its best.